A Brief Colonial History Of Ceylon(SriLanka)
Sri Lanka: One Island Two Nations

Two Nations-Hot- News

Charity Organizations
Charity Organizations

join us enabling the poorest of the poor toimprove their own lives

Wednesday, June 21, 2017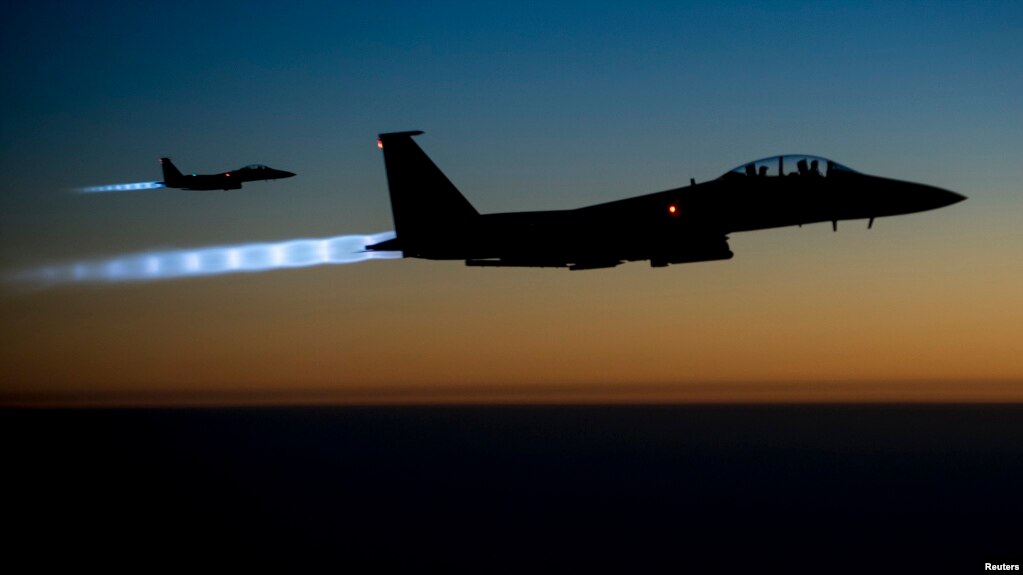 FILE - A pair of U.S. Air Force F-15E Strike Eagles fly over northern Iraq after conducting airstrikes in Syria, in this U.S. Air Force handout photo.
Carla Babb
-June 20, 2017
PENTAGON —
U.S. officials told VOA they were close to confirming that the Iranian-made drone shot down by an American fighter jet early Tuesday was being operated by the Iranian Revolutionary Guards Corps.
Speaking on the condition of anonymity, multiple U.S. sources told VOA that the drone was being operated from an IRGC ground control station inside Syria. The station is located near Hama, according to one official.
Pentagon spokesman Navy Captain Jeff Davis said an F-15E Strike Eagle shot down the Shahed 129 drone about 12:30 a.m. local time as it approached an established coalition combat outpost near al-Tanf, where the U.S. is training local fighters battling the Islamic State group.
Davis said the drone destroyed Tuesday was located where another Iranian-made drone was shot down on June 8.
"We do not seek conflict with any other party in Syria other than ISIS, but we will not hesitate to defend ourselves or our partners if necessary," he told reporters at the Pentagon, using an acronym for the Islamic State terror group.
Deconfliction hotline
While the U.S. and Russia have used an established hotline to deconflict air operations in Syria and prevent miscalculations between the two major powers, Davis said that because of the urgency of the threat, the deconfliction line was not used prior to the action against the drone.
"The pilot ... took immediate action to bring that drone down as it was approaching our forces with hostile intent," he said.
The downing of the drone came on the same day Australia announced it would temporarily suspend airstrikes by its forces in Syria, after Syrian ally Russia threatened to target planes from the U.S.-led coalition operating in the skies over Syria in response to the downing of a Syrian fighter jet by the U.S. Air Force on Sunday.
Monitoring 'air situation in Syria'
A statement from Australia's Defense Ministry said it would monitor the "air situation in Syria" and decide whether to resume airstrikes there "in due course." The ministry said strikes in neighboring Iraq, where the U.S.-led coalition campaign is also operating, would continue.
The Pentagon spokesman said the Syrian SU-22 jet had attacked U.S.-backed Syrian Democratic Forces positions near the towns of Ja'Din and Shuwayhan.
Davis added that the U.S. on Sunday gave the plane several warnings, including "multiple communications through the deconfliction line," launching flares and even performing a "head-butt maneuver," where a U.S. plane flies just in advance of another plane to create heavy wake, in order to get the Syrians to leave.
The SU-22 "went into a dive," dropped munitions anyway and was subsequently shot down, Davis said.
'Act of aggression'
Russia's Deputy Foreign Minister Sergei Ryabkov called the shoot-down an "act of aggression," but the U.S. said it would continue to protect its interests in Syria.
"The Syrian regime … needs to understand that we will keep the right of self-defense of coalition forces aligned against ISIS," White House spokesman Sean Spicer said Monday.
When asked whether the hotline between the American and Russian forces remained open, Davis stressed that the Pentagon feels this communication is effective and should not be cut.
"We remain available on our end. I'll leave it to the Russians to state their level of participation," he said.