A Brief Colonial History Of Ceylon(SriLanka)
Sri Lanka: One Island Two Nations

Two Nations-Hot- News

Charity Organizations
Charity Organizations

join us enabling the poorest of the poor toimprove their own lives

Tuesday, July 25, 2017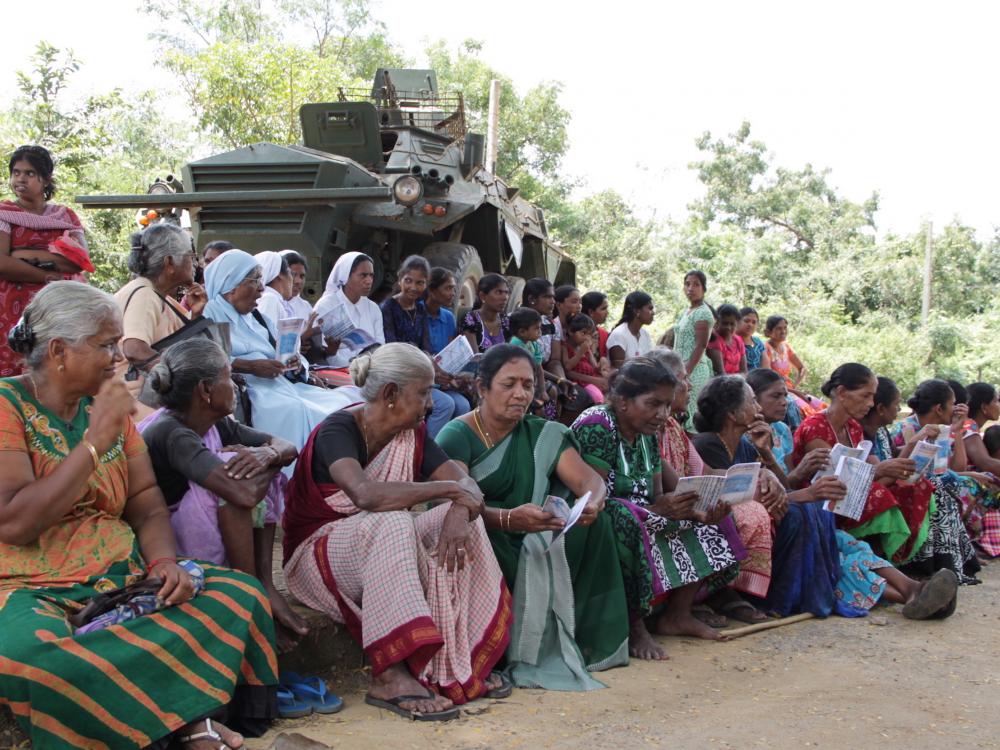 24/07/2017
Writing a letter to president Sirisena TNA leader R. Sampanthan has reminded him of his promise to release the land belongs to people of Keppapulavu. The letter says that "I discussed this matter with you and requested Your Excellency to ask the Army to release at the earliest, all Land at Keppapulavu including the block of 70 acres 2 roods, Your Excellency assured me that this would be done."
The full text of the letter follows:
Image: People of Keppapulavu has been protesting for 150 days now.( Tamil Guardian photo)
20
th
July 2017
His Excellency President Maithripala Sirisena
President Democratic Socialist Republic of Sri Lanka.
Colombo.
Your Excellency,
LAND AT KEPPAPULAVU MULLAITIVU, DISTRICT BELONGING TO DISPLACED TAMIL CIVILIANS
The Land at Keppapulavu in Mullaitivu District,now occupied by the Army, belonging to Tamil Civilians comprises of 4 blocks of Land – (01) 243 acres (02) 189 acres (03) 111 acres (04) 70 acres 02 Roods .The total extent of Land is 613 Acres 2 Roods.
I with Hon. Mavai Senathirajah, MP went to this land by 18th May, and discussed the release of this Land with the Local Army Commander in charge of this area. He informed us that;
the 1st block of Land in extent 243 Acres could be released immediately, that ;
the 2nd block of Land in extent 189 Acres could be released within one month, that;
the 3rd block of Land in extent 111 Acres could be released in around 6 months, and that;
in regard to the 4th block of Land in extent 70 Acres 2 Roods, he faced some difficulties.
On my return to Colombo, I discussed the issue of the release of the 4th block of Land in extent 70 Acres, 2 Roods, with General Krishantha De Silva the then Army Commander, who informed me that the 04th block in extent 70 acres and 2 roods could also be released. He also informed me that he was taking steps to have all the Land at Keppapulavu, Mullaitheevu released by about the end of July.
When I met Your Excellency on 23rd June, I discussed this matter with you and requested Your Excellency to ask the Army to release at the earliest, all Land at Keppapulavu including the block of 70 acres 2 roods, Your Excellency assured me that this would be done.
As Your Excellency is aware the displaced Tamil civilians have been demonstrating for over 141 days at the entrance to their army occupied territory, that their Lands be released so as to enable them to recommence residence, and resume their livelihood activities. Whatever activities have been carried out on the Land after the displacement of the Civilian population has been done without the Land being legally acquired.
These people have suffered for very long, both before and after the end of the War.
I would very strongly urge that urgent action be taken to release all the land at Kepappulavu, Mullaitheevu District to the people entitled to same.
I would respectfully urge that urgent action be taken to release all Lands at Kepappulavu, Mullaitheevu by the end of the month.
Thanking you.
Yours sincerely,
R Sampanthan
Member of Parliament
Leader of the Opposition
Copies to: (i) Hon Ranil Wickramsinghe,Prime Minister
(ii) Defence Secretary-Ministry of Defense
(iii) Gen.Krishantha De Silva
Former Army Commander, Presently Chief of Staff, Sri Lanka Armed Forces.
(iv) Gen.Mahesh Senanayake, Army Commander,