A Brief Colonial History Of Ceylon(SriLanka)
Sri Lanka: One Island Two Nations

Two Nations-Hot- News

Charity Organizations
Charity Organizations

join us enabling the poorest of the poor toimprove their own lives

Friday, July 14, 2017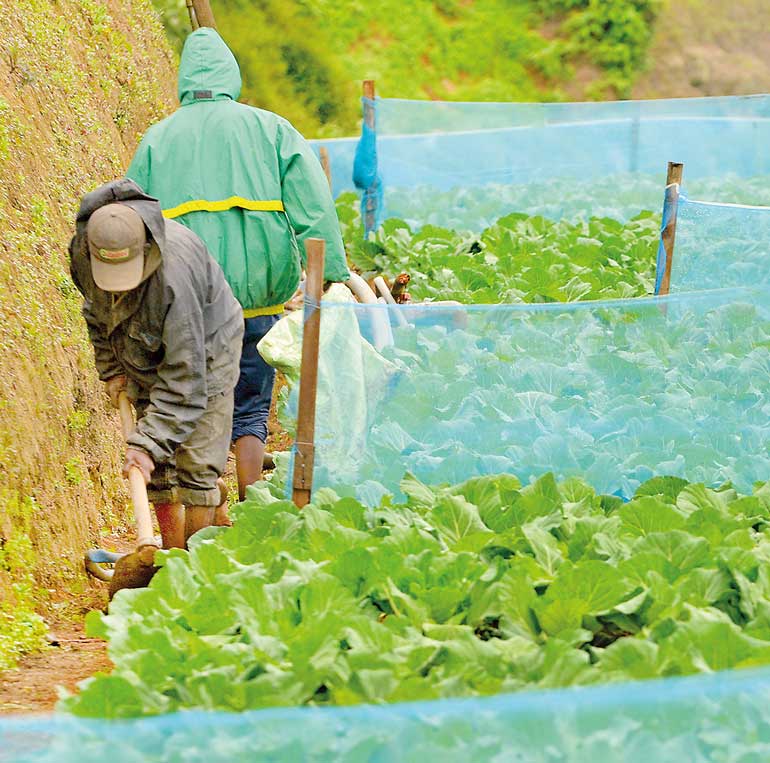 Young men attending to a vegetable cultivation in Nuwara Eliya. Due to the lack of economic and social protection, the majority of the youth in Sri Lanka lack confidence about their future in the agricultural industry – Pic by Shehan Gunasekara
An industry sector evaluation-Wednesday, 12 July 2017
Introduction
At present youth represent 20% from the total population in developing countries. This is a significantly large resource for the economic development in any developing nation.
Youth in Sri Lanka's rural areas were neglected for many years especially in social and economic development aspects. Due to this most young people residing in rural areas are moving to the metropolis seeking more opportunities to match their aspirations. Contribution from young people to agriculture and its development is decreasing.
Currently for food security and poverty eradication purposes policy makers are working towards social and economic development for a higher youth engagement in agricultural. Despite the work of policy makers, the participation of the youth in agriculture is decreasing. Many young people already engaged in the agriculture sector are moving to the service industry by seeking better opportunities to match their life aspirations.

Reasons why young people step down from agricultural activity
The first reason identified for youth not involving in the agricultural industry is the very low levels of social protection, social recognition, pay and the overall sustainability in the industry. Due to these negative factors youth in Sri Lanka have lost interest in agriculture, in turn you may find them moving out from geolocations involved in the industry to more urbanised and cosmopolitan areas even in regards to their field of work.
Secondly most young people find it unprofitable to engage in agriculture due to the lack of technology and innovation involved within the industry. Technology and youth must develop simultaneously for there to be maximum output within the industry. This gap in development is identified as a critical point behind the negative mind set in of the youth in Sri Lanka towards engaging in the agricultural industry.
Thirdly the commercial value of the Sri Lankan agricultural industry is decreasing. Authorities are not prioritising the commercial value of the industry especially in its financial and marketing aspects to attract young people to engage in this sector.
Lack of financial and non-financial sources for agricultural investment is the fourth reason. Youth who are engaged in agriculture face obstacles when obtaining funds for investments in agricultural. The lack of resources can lead to low returns, profitability and overall sustainability of agricultural businesses and those involved in it.
(DISCLAIMER: UNLOCKED is a space for Sri Lankan youth to express their views and opinions on development with the aim of creating positive change in the world. The views expressed in the blogs are solely those of the authors. UNDP Sri Lanka and Daily FT does not represent or endorse the views expressed in these blogs. Read more about the UNLOCKED initiative www.lk.undp.org.)
Poor decision making by the policymakers have lead this industry to a negative growth rate. Appropriate decisions are not taken to develop the industry with the engagement of the youth. There by the industry is less attractive in terms of productivity and profitability. Since profitability and social security in agriculture is low youth engagement is in turn low.
Suggestions for higher contribution
Appropriate training and development activities should be implemented among youth for them to use modern facilities and technologies within the agricultural industry. Required skills and competencies should be developed to provide for a sustainable future in this sector. Development of said skills can be facilitated by government and by private vocational training development institutions.
As per the 2014 NHDR, so far any possible incentive for improvement by private sector institutions is curbed by the strong government presence that already exists in vocational education and training. Additionally, financial resources should be made available for youth who are engaged in agricultural. Considering the economic and social impact the development of this industry brings, there should be open accessibility to financial resources.
Another crucial way forward is that there should be a boost in the image of agriculture in the youth mindset. Creating a positive image can lead to a better involvement of young people in the industry. For this to happen the advantages of economic and social benefits that is provided by agriculture should be highlighted. Sri Lankan youth would be further encouraged if private and government entities made way for such benefits for them to participate in agriculture and its activities.
The required skill set to achieve higher productivity and higher efficiency needs to be establish within the youth population including vocational and professional development. Government and private institutions can participate to achieve said development. All key competencies and skills in modern technology and agriculture must be made available for young people to confidently involve in agriculture.
Finally, technology and innovation needs to be improved in the agriculture industry. With government intervention, the cost of the technology can be made affordable which will in turn be beneficial to the economy.
Due to the lack of economic and social protection, the majority of the youth in Sri Lanka lack confidence about their future in the agricultural industry. This situation has a direct influence to the national economy in the long run and should be addressed by all stakeholders involved.
(Madura Thivanka schooled in Anuradhapura Central College and graduated with an island rank at the GCE Advanced Level examinations. He is currently a senior lecturer for an international campus in Sri Lanka and Head of the Business Management Division. His first degree was obtained in 2011 from Staffordshire University UK and in 2015 he obtained an MBA from Cardiff Metropolitan University.
In 2014 he started his own business based on the Sri Lankan travel and tourism industry. He is currently reading for a doctorate from the University of Wales. His many hobbies include conducting research on consumer behaviour, human behavioural pattern changes, strategic management and marketing management.)