A Brief Colonial History Of Ceylon(SriLanka)
Sri Lanka: One Island Two Nations

Two Nations-Hot- News

Charity Organizations
Charity Organizations

join us enabling the poorest of the poor toimprove their own lives

Tuesday, July 4, 2017
Wijeyadasa's madman responds
Tuesday, 4 July 2017
I am compelled to respond as a signatory to the civil society statement defending Attorney at Law Lakshan Dias against the threats and intimidation of Justice and Buddha Sasana Minister Wijeyadasa Rajapakshe. He has branded all of us signatories to that statement mad women and men who should be in Angoda.
Granville Perera, using alternate media, has responded to Rajapakshe's claim about madness and I quote, "No mad man admits that he is mad. When you ask a patient at the mental hospital in Angoda if he is mad, he will without hesitating point towards the outside world and say all the mad men are out there. That is exactly what Wijeyadasa Rajapakshe, the Minister of Justice and Buddha Sasana (believed to be allegedly hiding the fugitive extremist Buddhist monk Gnanasara Thero), said on the Hiru TV show on 26 June 2017. He also claimed everyone who signed a petition in support of Lakshan Dias, the Human Rights defender and Attorney at Law, are 'mad men' who should be in Angoda. Is this a clear indication that he has lost his head? Lakshan Dias had to flee the country as he is being hunted by suspected Wijeyadasa Rajapakshe goons."
Has Wijeyadasa Rajapakshe lost it or is he hoodwinking the Sinhala Buddhist voter into believing that Buddhism, which survived colonial rule and the kalu suddas thereafter, is under threat from a small minority of Muslims and Evangelical Christians? Venerable Galagoda Aththe Gnanasara Thero and the Bodu Bala Sena have managed to keep their coffers filled from the sweat of our Sinhala workers in Korea and Japan using the same rhetoric. Is Rajapakshe doing this stunt to fill his ballot box?
Many Muslims and Christians voted for Wijeyadasa Rajapakshe because he was one among the few honourable candidates on offer.
Did we all misjudge the charming Rajapakshe?
Wijeyadasa Rajapakshe is also a President's Counsel, a former President of the Bar Association of Sri Lanka with a Doctorate in Law and in Buddhist Philosophy (University of Colombo and Kelaniya).
Lakshan Dias is a fearless young lawyer who boldly defended his fellow Christians in and out of the judicial system. I have had the pleasure of working with Lakshan in difficult circumstances on racist assaults on minorities and can without hesitation declare that Lakshan did not lie while on the Derena TV show where he claimed that there were 197 incidents of violence against Christians during the time of Yahapalanaya. Today's count stands at 217 with 20 more incidents.
The National Christian Evangelical Association of Sri Lanka (NCEASL) has meticulously documented these incidents of violence against the Christian community. Police complaints have been made over some of these incidents, while others are going through the judicial process; most have photographic or video evidence. These have been published up to January 2017 and are in the public domain. Others are available in the web portal of NCEASL and are easily accessible by the public.
For Wijeyadasa Rajapakshe most of these are minor (sulu) incidents. I wish he would sit on the other side of the fence and experience the fear and frustration one has to endure when we see the Ashin Wirathu (nationalist Burmese Buddhist monk) style of intimidation of minorities. The Christians say it's a test from God but I say a volcano is about to erupt.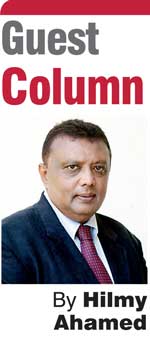 Intentionally misled
President Maithripala Sirisena generated the confusion when he declared that there were no Catholic Churches that had been attacked by racists. A perfectly true statement because the Catholic Church was almost an extension of the Rajapaksa regime with Cardinal Malcom Ranjith being part of the Rajapaksa household. That concession and security continued even under Yahapalanaya. Regretfully, President Sirisena probably doesn't realise the cold war between the Protestant and the Catholic Church. When the President asked the Cardinal whether there had been any attacks against his Church, he truthfully said no, there has not been a single attack. The Cardinal will face his Lord one day and will need to explain why he misled the President as he knew very well the daily torment that his fellow Christians undergo. In Sri Lankan parlance, the Cardinal led the President up the Murunga tree.
Rajapakshe claims that he has initiated action (or did he intimidate?) to disbar Lakshan Dias as a lawyer. The crime – Lakshan worked as an activist to defend his faith and claimed that there were close to 200 incidents of violence, hate, intimidation, threats, and destruction of Christian churches and prayer centres during the Derana TV talk show titled 'Aluth Parlimenthuwa' (New Parliament) on 14 June.
Ironically, three monks and a layman have initiated action in the Supreme Court of Sri Lanka against Lakshan, probably at the behest of Wijeyadasa Rajapakshe. We would soon know whether we need hybrid courts to hear cases against the grievances of the Northern Tamil minority as per the Geneva agreement or that we would have a Judiciary that cannot be intimidated by the Minister of Justice.
Wijeyadasa Rajapakshe also claims that he associates himself with the Asgiriya Prelate's stand against minorities. As a Cabinet Minister, and also the Minister of Justice, is he questioning the minorities' right to equal recognition as guaranteed by the Constitution? A person who cannot provide equal justice to all citizens should not hold the position of Justice Minister. He should immediately resign from his ministerial portfolio or should be removed by President Sirisena.
The Sri Lankan Constitution clearly defines that "every person is entitled to freedom of thought, conscience and religion, including the freedom to have or to adopt a religion or belief of his choice". The assaults and intimidation of minorities' right to religious freedom and practice is a clear violation of the Constitution.
Rajapakshe has joined the phobic extremists to accuse civil society of conspiring with western nations and the international community to undermine Sri Lanka, a clear reminder of the Weerawansa days of the Rajapaksa era when anything and everything was linked to an international conspiracy.
Rajapakshe and his Government go down on their knees for GSP+ concessions, loans to pay for their luxury duty free vehicles, import substandard consumables for the masses and to repay massive debt that has been accumulated through the misrule of our politicians during the last 70 years. Well, echoing our Honourable Minister's parlance, they should all be in Angoda and not in Diyawanna.
Europe and the rest of the developed world dole out their taxpayers' money to fill the begging bowl of Sri Lanka and other poor nations. They are answerable to their citizens (unlike our politicians) to ensure that they are not funding and supporting despotic rulers and to ensure adherence to democratic values, human, women's and child rights, transparency, good governance, etc. They engage civil society organisations working in respective specialties to monitor the proper implementation of their grants to the Government. Most of these civil society organisations don't work as an extension of the Government in power, hence there is constant conflict. The successive governments continue to have appointed 'spokesmen' to undermine the work of civil society. Regretfully, Wijeyadasa Rajapakshe has become one such person, attacking NGOs and civil society as traitors to the nation. For all of these opportunistic politicians, civil society has been their darling while they were in the Opposition. Evidence of this can be seen in the way Mahinda Rajapaksa is bending backwards to appeal to civil society.
The worst of Wijeyadasa Rajapakshe's diatribes comes when he accuses his Muslim parliamentarians too of being mad men, which convinces me that Granville Perera has spoken the truth. Of course our Angoda mental hospital won't be good enough for any of our honourable men from Diyawanawa but the Mount Elizabeth Hospital in Singapore would be an acceptable option.
In these days of minority bashing, I am reminded of a statement from State Minister Eran Wickramaratne, who said: "In any country, it is the responsibility of the majority community to protect and look after the minorities." Does Wijeyadasa Rajapakshe agree with his parliamentary colleague?