A Brief Colonial History Of Ceylon(SriLanka)
Sri Lanka: One Island Two Nations

Two Nations-Hot- News

Charity Organizations
Charity Organizations

join us enabling the poorest of the poor toimprove their own lives

Wednesday, August 2, 2017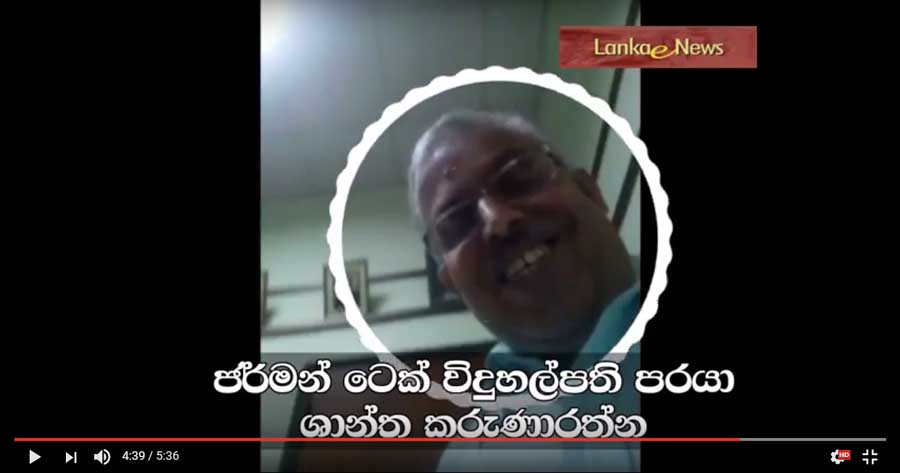 (Lanka-e-News - 02.Aug.2017, 10.10PM)
While the government is getting ready to introduce a fixed standard for the Medical Education , the principal of German Technical training Institute (which hitherto maintained a high standard ) Shantha Karunaratne the sex starved scoundrel on the other hand is soliciting sexual favors to pass the students sitting exams at the Institute. Below is a video footage which bears testimony to the sex pervert's shameless spills and thrills .
Though this sex maniac has been carrying on with his illicit lascivious activities for a long time nobody mounted opposition to it. While a large number of innocent students who fell victim to the sex starved maniac have left the institute abandoning their studies , one intelligent brave student has had the courage to challenge this rascal. She is a resident from the vicinity of Colombo. This sex starved shameless animal of a principal has failed her in several subjects in the exam , and has been unrelentingly demanding that she yields to his sex lust if he is to pass her in the exam.
The student who went to meet him along with a secret video cameras to capture the pictures with a view to expose this sex maniac had videoed the most disgraceful , shameless ,vile conduct of the two legged animal of a principal. What we have here is a 4 minute recording of a long footage.
The victim had gathered all the evidence and lodged complaints with the Mt.Lavinia police and the Commission of Bribery and Corruption.
Though this police complaint comprised of 13 pages , the B report submitted to the magistrate court Moratuwa stated that the principal only pulled her by the hand thereby hiding all the other lurid details against the principal .On 25 th July when the magistrate was reluctant to enlarge this criminal on bail , yet because the police did not object to bail , the principal was released on a cash bail of Rs. 50,000.00 and two personal sureties in a sum of Rs. 200,000,00 each, and the magistrate postponed the case .
It is a practice when a chief of an Institution is criminally charged before court and is out on bail to be precluded from holding the official position and from continuing with his duties , yet because of minister Chandima Weerakkody under whom the Germant Tech is , and its chairman Pandu Bandaranayake whose patronage the prinicipal enjoys , this two legged shameless animal in human form is still continuing as German Tech principal.
Whom are the police without enforcing the law duly, trying to safeguard and protect ; and whom are the political authorities trying to shield and safeguard by not adhering to the laws ? Have they also descended to the level of shameless pariahs as the principal who brazenly demanded sexual favors from innocent students ?
The crucial question is ,why are the so called student movements of the Leftist Neanderthal politicos that shout and scream even for hypocritical reasons that they espouse the cause of students silent before these confirmed pariahs?
A copy of the complaint made to the Bribery and corruption Commission by the innocent student who suffered at the hands of the sex pervert Shantha Karunaratne , and the video footage of the sexual molestation are herein
Click This Video Link
---------------------------
by (2017-08-02 16:57:14)