A Brief Colonial History Of Ceylon(SriLanka)
Sri Lanka: One Island Two Nations

Two Nations-Hot- News

Charity Organizations
Charity Organizations

join us enabling the poorest of the poor toimprove their own lives

Sunday, August 6, 2017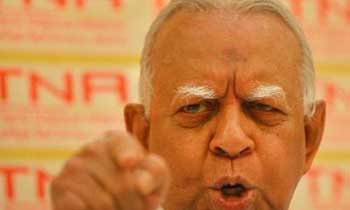 Prime Minister Ranil Wickremesinghe's political future and the future of the country largely depend on resolving the national question and bringing about economic development, Opposition Leader R Sampanthan said.
He said this during the ceremony in Parliament to felicitate Prime Minister Ranil Wickrmesinghe's 40 years as a parliamentarian.
"Premier by nature is calm and stable person and a person who cannot be ruffled easily. We are felicitating him on his outstanding achievement of being 40 years in Parliament but the concern is his future. He and President Maithripala Sirisena should work together to come up with a political solution to the national question," Mr. Sampanthan said.
"Economic development and the national question are closely associated. Much needed economic development could be achieved only if the national question is resolved," he said.
(Yohan Perera)