A Brief Colonial History Of Ceylon(SriLanka)
Sri Lanka: One Island Two Nations

Two Nations-Hot- News

Charity Organizations
Charity Organizations

join us enabling the poorest of the poor toimprove their own lives

Saturday, August 12, 2017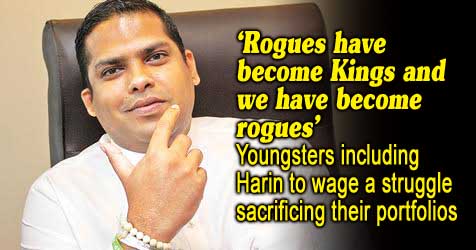 (Lanka-e-News - 11.Aug.2017, 1.00 PM) 'I am prepared to quit my ministerial post and launch a new struggle against the actual rogues , and that struggle is beginning today ,' said minister Harin Fernando following the resignation of Ravi Karunanayake the former minister of foreign affairs. There are a large number of parliamentarians including ministers with him ,and he will reveal who they are later , he added.
Harin is the young politico who sacrificed his post , fought and won the Uva provincial Council elections , and then came forward to pave the way for the preliminary election victory on 2015-01-08 which aimed at eliminating the rogues for which he worked in earnest and with commitment . It is the view of political analysts , the current approach of Harin the young politico will be decisive.
Based on reports reaching Lanka e news inside information division, Harin had questioned the president at the recent cabinet meeting thus , 'Isn't this a conspiracy? It is we who exposed the rogues and steered a government against rogues to victory. But now we are made rogues while the actual rogues are free. Now , the government is being run not by us but by those rogues. You must appoint a presidential commission and apprehend those rogues too on the same fast forward track . Catch the rogue Dilan too' Harin exhorted. When Harin was speaking thus in anguish and anger , the president flew into a rage. The Commission was not appointed by him alone , he pointed out. Kabir Hashim the UNP Gen. Secretary supporting Harin said , ' it is people like Harin who worked with commitment to install this government in power . What he is bringing forth is truly the conscience of the UNP members'
No matter what , when the media personnel of president and Rajapakses are eating from the same plate , and together with the 'Trojan horse' the actual rogues are being protected while fastening the label of 'rogue' on those who truly waged the struggle to apprehend the culprits , a group of youngsters including Harin has deemed it is necessary to launch their patriotic struggle against the conspiracy which is labeling those who came forward to seize the rogues as culprits.
They have started the struggle against the cold storage of files of the investigations which have been concluded pertaining to the rogues .They have also commenced the probe into how the electronic frequency- a public asset worth many billions of rupees was transferred on the sly and free to notorious Maharaja .
Nevertheless, it is learnt , Ranil Wickremesinghe has opposed the struggle of these youngsters. Sometimes this struggle will cease when the consensual government which entered into a pact with the defeated crooks ends . Pressures are being mounted to decide: Is the UNP group which holds the majority in the victory at the people's referendum of 2015-01-08 , to continue getting battered and bruised from the confirmed crooks ? Or go it alone ?
The full text of the speech of minister Harin Fernando (video) is hereunder
---------------------------
by (2017-08-11 07:39:40)