A Brief Colonial History Of Ceylon(SriLanka)
Sri Lanka: One Island Two Nations

Two Nations-Hot- News

Charity Organizations
Charity Organizations

join us enabling the poorest of the poor toimprove their own lives

Monday, May 8, 2017
Young women, who were among 276 captured in April 2014, flown to Nigerian capital to meet president while charities call for them to be reunited with families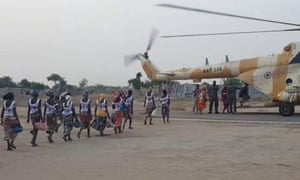 Some of the freed schoolgirls board a helicopter. Photograph: ICRC/EPA
But joy at their freedom was quickly followed by concern for their privacy and fears that the thousands of other less high-profile prisoners still held captive by the extremists would be forgotten.
Picked up in Red Cross vehicles and given the agency's branded T-shirts to wear, the young women boarded military helicopters and were flown to the capital, Abuja, to meet the country's president, Muhammadu Buhari, as anxious families awaited an official list of the names of those released.
Information was given out gradually: by mid-afternoon, only 20 names had been published.
Buhari, who has not been seen in public for several weeks because of illness, later flew to London for medical checkups. His departure had been delayed so he could meet the Chibok women, according to his office.
"Boko Haram members have executed and tortured thousands of civilians and raped and forced into marriage girls and women. They have been indoctrinated and even forced to fight for Boko Haram. The Nigerian authorities must now do more to ensure the safe return of the thousands of women and girls, as well as men and boys abducted by Boko Haram."
The International Committee of the Red Cross (ICRC) told the Guardian that it had acted as a neutral intermediary and organised the transportation of the girls and young women to freedom. "We were not involved in the negotiations for their release, as negotiations often imply a political process which is contrary to the apolitical-neutral nature of the ICRC's work," said a spokeswoman. "Therefore we cannot make comments on the conditions agreed by the parties for their release [or] whether there are more so-called Chibok girls in the hands of the armed opposition."
The freed captives were expected to be reunited with their families on Sunday, she added.
Lengthy negotiations took place in Switzerland and Sudan, according to Shehu Sani, a Nigerian senator, though he added that the Boko Haram representatives did not attend those in Bern. Sani told the Guardian that it was he who introduced Zanna, the chief negotiator, to the government and came up with a road map for the talks.
Two of the 82 girls were physically injured, Sani said. One had a wrist injury and the other was on crutches.
Asked whether the five commanders could strengthen Boko Haram, analyst Ryan Cummings thought not.
"I doubt it very much. Boko Haram is massively decentralised and is more an umbrella movement than a monolithic movement. Commanders could have a localised impact in areas that they return to but it will have no wider impact," he said.
Since the Chibok abduction, Boko Haram has splintered into different factions, one of which has pledged allegiance to Islamic State.
An unnamed Nigerian military official with direct knowledge of the rescue operation told Associated Press (AP) the women were found near Banki, a town close to the border with Cameroon. Boko Haram remains active in the area, despite claims by Buhari that the militant group has been crushed and forced from its last forest hideout.
In one video, released in August 2016, a girl told the camera some of her fellow captives had been killed in airstrikes and relayed a message demanding the release of Boko Haram prisoners in exchange for their freedom.