A Brief Colonial History Of Ceylon(SriLanka)
Sri Lanka: One Island Two Nations

Two Nations-Hot- News

Charity Organizations
Charity Organizations

join us enabling the poorest of the poor toimprove their own lives

Monday, May 15, 2017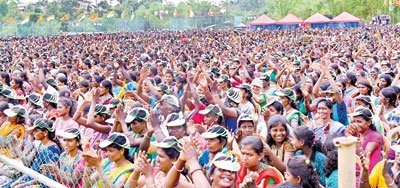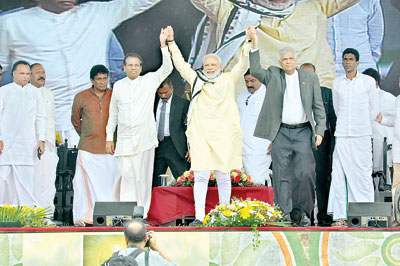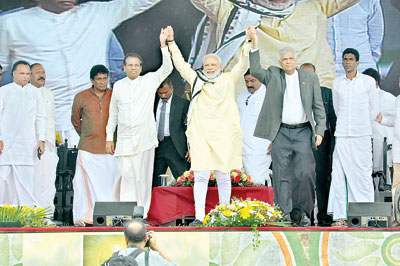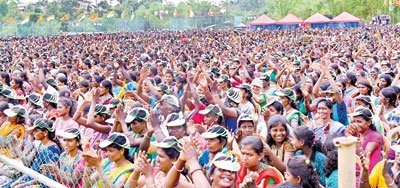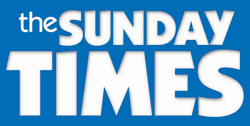 By Namini Wijedasa-
Sunday, May 14, 2017
"India beats in your hearts," visiting Prime Minister Narendra Modi declared to jubilant Sri Lankans at the Norwood grounds on Friday, moments after declaring open a multi-specialty hospital in Dickoya built with Indian funds.
Alluding to them as "Indian-origin diaspora", Mr Modi told the estimated 30,000-strong crowd that their progress was India's pride. "We take much joy from your accomplishments in various walks of life," he said. "We rejoice at the success of the Indian-origin diaspora as they leave a mark across the world, near and far."
Thousands of Indian origin Tamils—all of them now Sri Lankan citizens—climbed into buses early Friday morning and were driven to the Norwood grounds to hear Mr Modi speak. Villages were festooned with orange, white and green streamers, the colours both of the Indian national flag and the Ceylon Workers' Congress (CWC).
The Indian Premier arrived at 12.45 p.m. And when he opened his speech with a few words of Tamil, a loud, delighted cheer rose from the crowd.
"You have kept your bonds with India alive," Mr Modi said, switching to English (a translator was at hand). "You have friends and relatives in India. You celebrate Indian festivals as your own. You have soaked our culture and made it your own. India beats in your hearts. And I am here to tell you that India fully reciprocates the warmth of your sentiment."
Premier Modi's visit to Sri Lanka, his second since the Sirisena administration took over in 2015, is significant in the face of growing Chinese influence in the country. Indian origin Tamils have for 200 years worked on Sri Lanka's tea plantations, ensuring the growth and survival of its most famous export.
The Indian Prime Minister was quick to note the fact. He called the plantation workers "that indispensable backbone of the thriving Sri Lankan tea industry". And he referred to his own special association with tea—he was once a tea-seller—as a point of commonality with those gathered before him.
The forefathers of Sri Lanka's Indian origin Tamils were men and women of strong will and courage, Mr Modi said. They never gave up. The prevailing generation then encountered "the stiff challenge of making your own mark and identity in a newly independent nation". But they faced it boldly, he remarked, fighting for their rights peacefully.
The Prime Minister said India would fund the construction of 10,000 houses in the estate sector, in addition to the 4,000 already pledged. The emergency ambulance service will be extended to all provinces. "We will help you overcome the challenges of your past to realize the promise of your future," he vowed.
Spectators largely welcomed Mr Modi's visit. There were numerous placards and hoardings displaying his photograph alongside that of President Maithripala Sirisena, Prime Minister Ranil Wickremesinghe and incumbent Indian origin Tamil leaders of Sri Lanka. There was strong competition between CWC's Armugam Thondaman and Palani Digambaram, leader of the National Union of Workers. Some minor scuffles also broke out. "It's just as well the wine stores are closed in these areas today," said a local journalist.
"India didn't know that there were Indian origin Tamils in Sri Lanka," remarked T. Ravi, a 39-year-old bus conductor who attended the meeting. "They thought Sri Lankan Tamils meant only those of the North and East. But now they know about us and can do something for us also."
Several of the spectators reiterated that India had paid attention only to the issues of the Tamils of the North and East. Like Mr Ravi, some felt that it was not even known the Indian origin Tamils existed as a unique group in Sri Lanka. But they were also eager to stress that they were citizens born and bred in Sri Lanka.
"We have relatives who returned to India," said J. Prabhakaran, the 34-year-old deputy principal of Vivekalaya Tamil Vidyalaya. "Those are the ties we have now. No other. We are Sri Lankan citizens. Even when we fill out forms, we put ourselves down as 'Sri Lankan Tamils' and write 'Índian origin' only within brackets."
"Some are saying that only the Jafffna people are real Tamils because we came only later," said 31-year-old J R Prasad, deputy principal of Belgravia Tamil Vidyalaya in Talawakelle. "We don't think like that."
Mano Ganesan, the only Indian origin Tamil to address the gathering, also emphasised the ties his community now had to Sri Lanka. "The people assembled are the most recent segment that arrived here since 1800s," he said. "It is why we are considered as the most recent Indian Origins who even identify their root villages in India. But, today, our loyalty to our motherland Sri Lanka is not a divided loyalty."
But there were broad expectations of further Indian assistance towards their community. "They give our children scholarships," said one elderly man sweating in the sweltering mid-morning heat. "Could they not help set up a university for our children in these parts? Then they don't have to undergo difficulties in Jaffna or in Peradeniya."
After Prime Minister Modi, his Sri Lankan counterpart Mr Wickremesinghe and President Sirisena left the grounds, the vast crowds once again made their way out. They left the grounds strewn with plastic water bottles and crumpled green, orange and white paper hats. And then they walked more than five kilometres to their respective buses which had been barred from parking anywhere nearby.
"We are a bridge between our two nations" – Mano GaneshanIn his speech welcoming the Indian Prime Minister, Minister of National Co-existence, Dialogue and Official Languages, Mano Ganeshan stated that the people assembled to hear him speak were the most recent segment of people to arrive from India in the 1800s.


"But our loyalty to our Motherland Sri Lanka, is not a divided loyalty," he insisted. "We are in a position of being a bridge between our two nations, and also, we make the relationship between our countries more meaningful," the Minister opined.

He noted that while most Sri Lankans of recent Indian origin speak Tamil, there were small segments who spoke Malayalam, Telugu, Guajarati and Hindi. A large number also spoke Sinhala.

Alluding to the religious and historical bonds between the two countries, Mr. Ganeshan observed that Buddhists from Sri Lanka go on pilgrimage to Buddha Gaya in India, while Hindus from India visited Sri Lanka on the Rama trail looking for Sita Vanam and the Rama Temple.

He stated that never in the country's history had Tamils of Indian origin felt as confident, assured and recognised as they did at present. This was because under the National Unity Government of President Maithripala Sirisena and Prime Minister Ranil Wickremesinghe, "this country looks beyond politics and beyond generations."