A Brief Colonial History Of Ceylon(SriLanka)
Sri Lanka: One Island Two Nations

Two Nations-Hot- News

Charity Organizations
Charity Organizations

join us enabling the poorest of the poor toimprove their own lives

Friday, June 30, 2017
Thursday, 29 June 2017
Commerce Secretary Wilbur Ross was supposed to attend this week's Economic Council of the Christian Democratic Union meeting in Berlin, but suddenly canceled his travel plans on Tuesday. Ross was scheduled to give an address at the conference immediately before German chancellor Angela Merkel, so he instead gave his remarks by teleconference from Washington.
Ross was allotted 10 minutes to speak. After speaking for more than 20, the conference organizers cut his feed mid-sentence. The audience "laughed and clapped" in response, according to Bloomberg. Merkel then rose and, during her remarks, disagreed with one of Ross's points.
The relationship between President Trump and Merkel has been strained since his inauguration. His repeated insistence that Germany owes money to NATO and his unusual reticence to embrace that alliance has been one point of friction. His disparagement of Germany as "very bad" in a closed-door meeting was another. That claim centered on what Trump (and Ross) viewed as a trade disparity between the two countries and was the point with which Merkel took issue.
In most other contexts, a laughing reaction from a small group of America's economic and geopolitical allies would be odd but not particularly noteworthy. In the context of the Trump administration, though, it's telling.
Trump's campaign rhetoric repeatedly centered on the idea that America was being laughed at internationally. His evidence for this claim was lacking, but it was a point he raised repeatedly.
During his campaign launch, he said Mexico was "laughing … at our stupidity" on the border. In a speech before the Iowa caucuses, Trump claimed that the Islamic State was laughing at our leaders, a claim he repeated in a March debate. The whole world was laughing at us because of Barack Obama, he said in an interview in May of 2016 — and in speeches in June and October. As Election Day approached, he made the claim over and over.
When he announced that he was withdrawing the United States from the Paris climate accord last month, Trump claimed that it was necessary because we'd gotten a bad deal — so bad that we were being laughed at.
"The Paris agreement handicaps the United States economy in order to win praise from the very foreign capitals and global activists that have long sought to gain wealth at our country's expense. … The same nations asking us to stay in the agreement are the countries that have collectively cost America trillions of dollars through tough trade practices and, in many cases, lax contributions to our critical military alliance," he said. "At what point does America get demeaned? At what point do they start laughing at us as a country? We want fair treatment for its citizens, and we want fair treatment for our taxpayers. We don't want other leaders and other countries laughing at us anymore. And they won't be. They won't be."
On Tuesday, The Post highlighted new survey data from the Pew Research Center showing that perceptions of America and our president have decreased substantially in most parts of the world following Trump's election. That includes Germany — a country to which Trump was pointedly referring in his Paris remarks and where Trump's commerce secretary was laughed at literally.
Views of the American people have held fairly constant over the years among Germans, Pew's polling revealed. But views of our government and president slipped during the George W. Bush administration, rose under Barack Obama — and then collapsed this year.
German confidence in the American president followed the same pattern. Last year, 86 percent of Germans had a lot of or at least some confidence in America's president. This year, more than half have none at all.
It's easy to read too much into the reaction Ross prompted this week. But as a symbol of the relationship between the two countries at the moment, it's hard not to — particularly given how often other countries' laughter was raised by Trump as something we should be concerned about.
A damning new

report

has criticised politicians' efforts to improve social mobility.

The research, by the Social Mobility Commission, warns that for years policies have "failed to deliver enough progress in reducing the gap between Britain's 'haves and have nots'."

"The old agenda has not delivered enough social progress," it says. "The policies of the past have brought some progress, but many are no longer fit for purpose in our changing world."

So, how bad is it? Here are ten key graphs from the Social Mobility Commission's report that paint a picture of the problem.
1. Child development equality has flatlined
This graph shows the percentage-point gap between deprived and non-deprived areas for children who reach a good level of development by the age of five. It was improving, but has now flatlined.
2. If your parents are not highly educated, you receive less child development time
The gap has got wider over time. Here, we can see the number of minutes that parents spend on their child's development per day, in 2001/01 and 2014/15.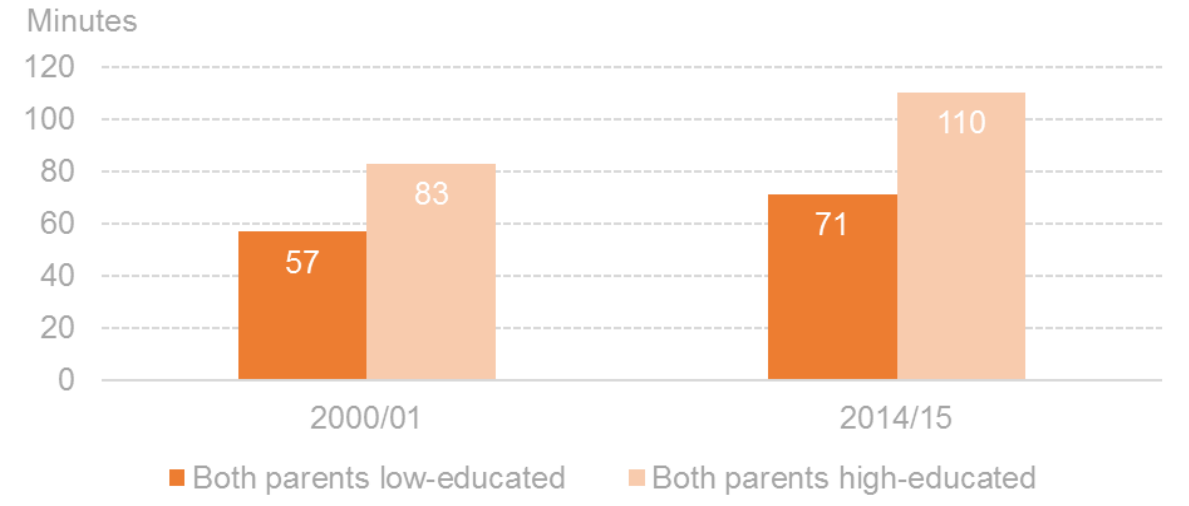 3. There's still a big gap between rich and poor children at school
This shows the percentage of pupils who achieve at least level 2 in Key Stage 1. It's broken down by those children who are eligible for free school meals (FSM), and those who are not.
4. Attainment for poorer children is improving quicker in London than the rest of England
As above, this graph is based on pupils who are eligible for free school meals. It shows the percentage who achieved at least five A*-C grades at GCSEs, or equivalent. (We've added the coloured lines on to the Social Mobility Commission's graph to make it easier to track each region's progress).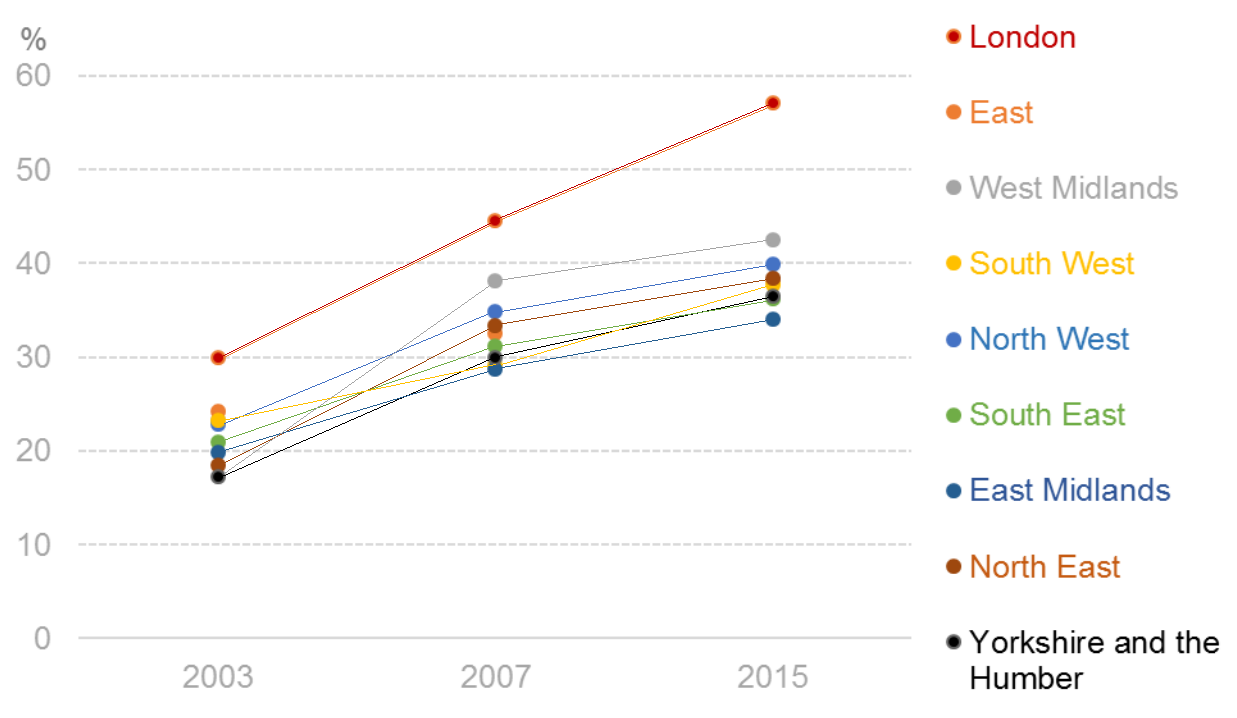 5. Good school leadership is linked to location and deprivation
The percentage of secondary schools with "good and outstanding" leadership is far lower in deprived areas outside London. This graph shows the breakdown by both region and deprivation in 2016.
6. Careers advice in schools is declining
This one shows the percentage of schools offering career support between 1997 and 2008. Every category of support has decreased except university visits, which have slowly become more widespread.
7. University access is improving… but the government is set to miss its target
The government wanted to double university access for students from low-participation areas by 2020. It looks like that won't happen, but there is steady progress nevertheless.
8. University access improvements are driven by poorer students going to the least selective universities
The percentage of disadvantaged 18-year-olds entering higher education has increased the most among those who go to low entry tariff institutions.
9. Social mobility has improved much more in some professions than others
This graph shows the percentage of people at the top of a sample of professions who went to private schools, in 1987 and in 2016. This demographic continues to dominate among barristers and the judiciary, and have actually increased in proportions in journalism and medicine. But the percentage of privately educated CEOs has dropped dramatically.
10. Most poor people live in working households
People who are in poverty are less likely to be unemployed than they were 20 years ago. Unemployment has fallen but wages have stayed low since the financial crisis, meaning the percentage of people suffering from in-work poverty has gone up.