A Brief Colonial History Of Ceylon(SriLanka)
Sri Lanka: One Island Two Nations

Two Nations-Hot- News

Charity Organizations
Charity Organizations

join us enabling the poorest of the poor toimprove their own lives

Thursday, July 27, 2017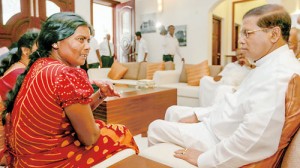 Jul 27, 2017
Deputy solicitor general Kumar Ratnam, who leads the prosecution's evidence in the three-member trial-at-bar Jaffna high court hearing into the gang rape and murder of Sivaloganathan Vidya, experienced a bitter incident on July 24. It came after the president ordered the IGP to provide special security to judges and witnesses in the case in light of the death of a bodyguard of judge M. Ilancheliyan in a shooting near Nallur Kovil at the weekend.
Other than the judges and the witnesses, the other person who could be exposed to any risk here is the deputy solicitor general. Additional solicitor general Dappula de Livera made submission at the commencement of the hearing, after which Ratnam took charge of leading evidence by the prosecution. He has to make much effort to keep up with the busy schedule, as on some days, the hearing goes on until 8.00 pm. State counsels do their travelling between the court and their places of accommodation without any security.
To explain the situation, Ratnam telephoned the DIG in charge of Jaffna Palitha Fernando. Showing no cordiality from the outset, the DIG asked him, 'Who are you?' when told he was the prosecution's lawyer in the Vidya case, he inquired, 'Yes, what is the problem?' When he explained the situation, Fernando told him, 'Who is saying it was intended at Ilancheliyan? The other thing is security cannot be given at everybody's request. Take care of your own protection,' and disconnected the line.
Very much disappointed and saddened, Ratnam then took a call to Jaffna's senior DIG Roshan Fernando. The top policeman answered, 'Yes, Sir. What can I do for you?' After he was told the situation, Fernando promised the deputy solicitor general security by the following morning. The senior DIG spoke to the STF commandant and provided STF commando protection to him and other members of the legal team from yesterday morning.
We made inquiries and found that Fernando had worked as the SP for Ratnapura under the now remanded senior DIG Lalith Jayasinghe. It was Fernando who had not enforced the law, on Jayasinghe's instructions, with regard to the triple murder committed by Ratnapura politician known as 'Choka Malli' a few days before the 2015 presidential election. Fernando also violated the process of the law and changed the statement of the Kahawatte OIC in connection with the murder of Sumith Prasanna of Embilipitiya. That was revealed by the statement given by the OIC to the CID.
Fernando hates Attorney General's Department officials so much because his one-time senior Jayasinghe is under arrest.