A Brief Colonial History Of Ceylon(SriLanka)
Sri Lanka: One Island Two Nations

Two Nations-Hot- News

Charity Organizations
Charity Organizations

join us enabling the poorest of the poor toimprove their own lives

Monday, August 7, 2017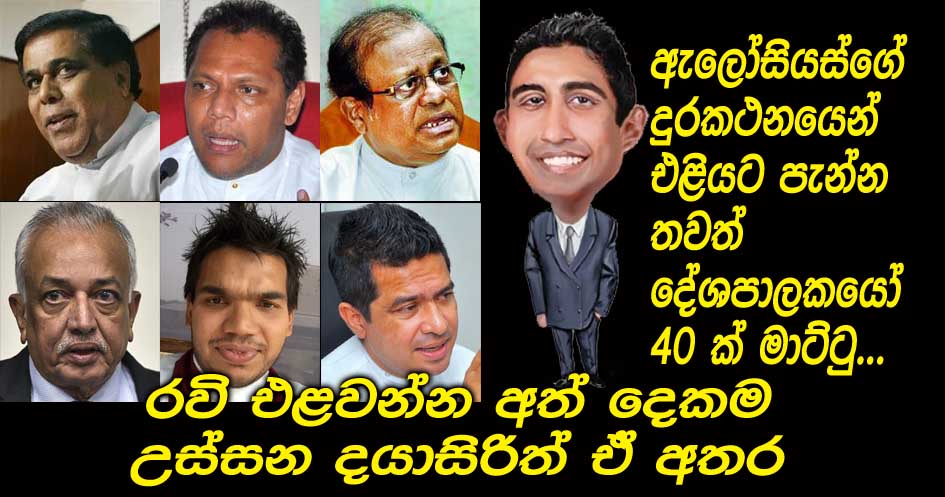 (Lanka-e-News - 06.Aug.2017, 8.00AM) Pot calling the Kettle black ! Dayasiri Jayasekera who says he will raise both hands to send Ravi Karunanayake home in the Aloysius treasury bond case is himself incriminated in same. The investigations into the telephone and sms messages exchanged via the telephone of Arjun Aloysius have implicated about 40 names of high profile politicos of the opposition and government including Dayasiri .
Among those politicos are ministers Nimal Siripala De Silva,Susil Premachandra , Dayasiri Jayasekera of the opposition , and ministers Malik Samarawickrema and Sujeewa Senasinghe of the UNP. Of course notorious Namal Rajapakse and Basil Rajapakse of the Rajapakse family whose names are already synonymous with frauds are also involved.
It is therefore a pertinent question why only Ravi Karunanayake is being interrogated and within just two days in connection with the so called investigation into the 8600 page document pertaining to the sms and telephone messages exchanged via the telephone of Arjun Aloysius .
Meanwhile Lankadeepa newspaper's report that the president has notified Ravi Karunanayake to resign from his portfolio is a newspaper canard and an absolute lie, according to sources close to the president , LeN learns.
Lakbima newspaper belonging to the deputy speaker cum bookmaker reveals at the no confidence motion against Ravi, members of the SLFP which constitutes part of the consensual government are going to vote against Ravi. This report has also been confirmed by sources close to the president as an absolute falsehood. Expressing their views to us , they said , 'we are not that mad to vote for a no confidence motion brought forward by the alliance, 'and such a thing was never even discussed among the SLFP.
The P.M. has not advised Ravi to resign from the portfolio. Sources close to Ranil pointed out , the hand that is now raised to attack Ravi today can be the same hand that can be used against Ranil tomorrow.'
---------------------------
by (2017-08-06 02:33:53)