A Brief Colonial History Of Ceylon(SriLanka)
Sri Lanka: One Island Two Nations

Two Nations-Hot- News

Charity Organizations
Charity Organizations

join us enabling the poorest of the poor toimprove their own lives

Sunday, August 13, 2017
Kenya election: death toll rises as protests continue
The rescue workers were killed in a raid by unknown assailants on their base in a militant-held area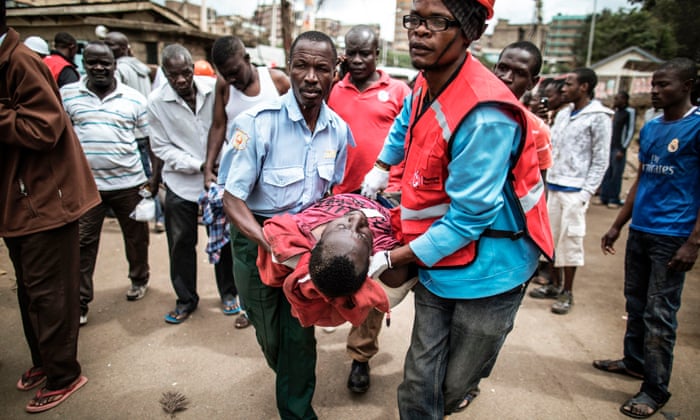 Kenya Red Cross workers carry away a wounded man amid running battles between protesters and police in the Mathare slum in Nairobi. Photograph: Marco Longari/AFP/Getty Images
Jason Burke
in Nairobi and agencies
Saturday 12 August 2017
Kenya's post-election violence worsened on Saturday as police used tear gas on a convoy of opposition officials in the capital and a mortuary official said nine bodies with gunshot wounds were brought to a Nairobi morgue from a slum that is an opposition stronghold.
At least 24 people have been killed by police gunfire since Tuesday's election, said the
Kenya
National Commission on Human Rights, which monitors government institutions. It appealed to senior officials to urge police to stop using live ammunition against civilians.
As rioting continued the day after President Uhuru Kenyatta won a second term in a vote the opposition claims had been rigged, a father said his nine-year-old daughter was killed by a stray bullet on their third-floor balcony in Mathare.
Kenyan police shot and killed two people during riots by opposition supporters on the outskirts of Kisumu, a city where opposition leader Raila Odinga has strong support, according to police. Another five people were injured by gunfire in Kisumu.
The government should stop "the random killing of our people", Odinga's brother, Oburu Odinga, said. The government accused "criminals" of taking advantage of the tense election period to loot and destroy property.
In Nairobi slums loyal to Odinga, police opened fire to disperse protesters who blocked roads and set up burning barricades. Associated Press photographers saw police charging demonstrators and firing live rounds and tear gas in the Mathare area.
A mortuary official said nine bodies with gunshot wounds were brought to the Nairobi morgue from Mathare.
Protesters, some with rocks or sticks, ran for cover as they came under fire in another Nairobi slum, Kibera. One person was shot and killed in Kibera overnight, said Sam Ochieng, a former chairman for Odinga's party there.
An Associated Press photographer said police used tear gas on a large convoy of vehicles carrying opposition officials that tried to enter Kibera. Police also fired guns into the air.
Most of the country of 47 million people remained calm the day after the election commission announced that Kenyatta, whose father was Kenya's first president after independence from British colonial rule, had won a second five-year term.
There were also pro-Kenyatta celebrations, although a senior traffic police officer said four people were killed when they were hit by vehicles while marking his victory.
After an acrimonious campaign, Kenyatta used his re-election speech to reach out to Odinga and his supporters on Friday night, saying he wanted to work with them "in the service of Kenya".
The 55-year-old, who has been in power since 2013, called on his compatriots to "remember that we are brothers and sisters" and to shun division.
In recent days, opposition officials have described the election results as a fraud and claimed that Odinga, the 72-year-old Nasa leader, was the legitimate winner.
Kenyans had endured a tense three-day wait while a definitive count was done of the ballots from more than 40,000 polling stations.
In 2007, Odinga's claims of vote-rigging prompted rioting and retaliation by security forces, which tipped the country into its worst crisis for decades, with about 1,200 people killed.
A series of election observers and western officials
have advised the losers in this year's election to accept defeat
. John Kerry, the former US secretary of state, called on political candidates and parties to stay within the law to resolve any disputes.
"The judicial process, the judicial system of Kenya and the election laws themselves make full and adequate provision for accountability in this election," said Kerry, an election observer for the Carter Center. "The streets do not."
Opposition politicians accused the observers of "rushing to judgment" and colluding with the government.
On Saturday Kenya's main poll monitoring organisation, Elections Observation Group (ELOG), said it had found no evidence to suggest this week's election had been manipulated or that the result was inaccurate.
ELOG's parallel vote tally projected a victory for Kenyatta with 54% of ballots cast, compared to an official count of 54.3%. This was well within its 1.9% margin of error, the group said.