A Brief Colonial History Of Ceylon(SriLanka)
Sri Lanka: One Island Two Nations

Two Nations-Hot- News

Charity Organizations
Charity Organizations

join us enabling the poorest of the poor toimprove their own lives

Monday, May 8, 2017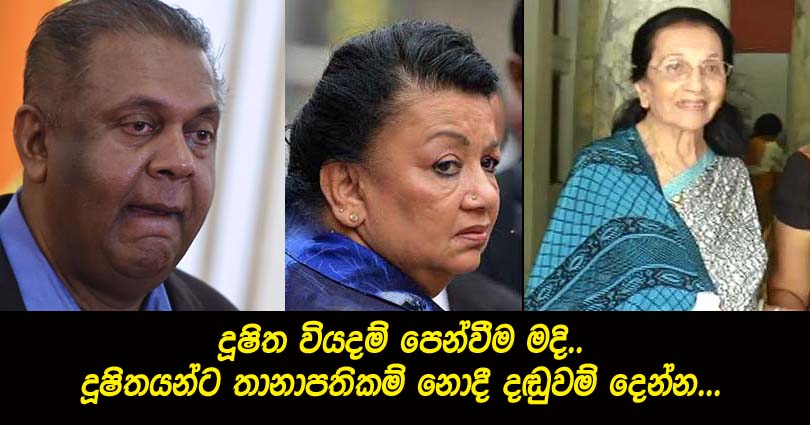 (Lanka-e-News -07.May.2017, 11.45PM) The expenditure of a whopping Rs. 25 million incurred by the senile duo Shiranthi ammandi and Daisy aachi using up foreign ministry expenditure allocations to see Wesak in Paris was confirmed by the statement made by foreign minister Mangala Samaraweera in parliament . We are pleased that Lanka e news took all the trouble to make this odious report known to the world.
We wish to make a revelation in connection with this Wesak pleasure trip ,as employees of the foreign ministry. It must be pinpointed the latter can only release funds only in relation to expenses concerning the affairs of the ministry .
For example, if a minister of any ministry is visiting a foreign country , the funds to meet that expenditure shall be released by that particular ministry , and the Sri Lankan diplomatic mission in that relevant foreign country has no rights to defray those expenses. Accordingly , the expenditure incurred by the ex president's wife should have been met by the presidential secretariat , and not by the foreign ministry . In such instances , the funds must be released via the presidential secretariat . In the circumstances , the secretary who was the chief accounts maintenance officer of the foreign ministry at that time has committed a most serious offence by acting in contravention of the regulations by defraying the expenses.
Therefore action should have been taken against this secretary under the establishment code . Yet , this wrongdoer on the contrary was given a foreign diplomatic appointment instead of being punished.
In the same way , it was foreign affairs ministry that authorized funds to ex monitoring M.P. Sajin Vaas Gunawardena to associate with prostitutes and see blue films . In another instance , to cut a cake for the birthday of the daughter of ex foreign minister Bogallagama , a sum of Rs. 100,000.00 was spent , and that payment was released out of the funds of the SL foreign ministry through the SL High Commission in Britain . Two super luxury buses too were purchased spending colossal amount of the foreign ministry funds to serve the crazy whims and private purposes of 'Namal baby'. These two buses are now nowhere, and cannot be traced. All these are waste of public funds , aren't they ? Mind you all this fun and frolic had been indulged in by Ammandis , Daisies and 'babies' wasting public funds !

It is incredible but true ! Some SL diplomats abroad returned to the country (they are even now holding diplomatic posts) during the run up to the last presidential elections to campaign for Mahinda Rajapakse, and all those expenses were met out of state funds .Their salaries and allowances were paid by the foreign ministry . Since state officers cannot engage in election campaigns , under the Establishment code action shall be taken against them.
What we are trying to explain and emphasize is , there are several such scoundrels and rascals who engaged in illicit and rascally activities, even today within the ministry of foreign affairs , and are holding sway.
Legal action shall be taken against them , without which , simply tabling the corruption and illicit activities that raged within the ministry, in parliament will serve no purpose. If the minister does not take action against the corrupt and the crooked , the faith people have in him will be eroded , and his prestige undermined. It is our perception that even in the midst of these rackets and exposures , if eyes and ears remain closed , it will be tantamount to having given tacit consent to the wrongdoers to commit more crimes .
-By a group of employees of the ministry of foreign affairs
---------------------------
by (2017-05-07 20:31:38)
-Drink and the devil Wesak sight seeing by duo !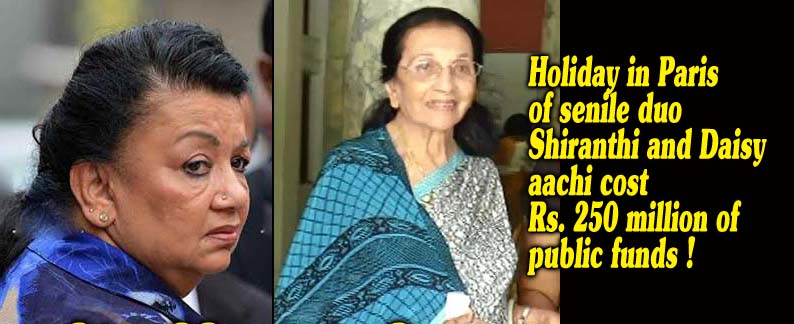 (Lanka-e-News -07.May.2017, 11.45PM) Shiranthi Ammandi the wife of ex president has spent or rather wasted over Rs. 25 million of public funds just to see Wesak in Paris during the nefarious corrupt decade of the Medamulana Mahinda Rajapakse when he was ruling the country keeping the oppressed people trampled under his despotic boots. Shiranthi enjoyed this holiday in Paris along with Daisy Achchi (Daisy Forrest) who became notorious when Yoshitha's ( Mahinda's son) property racket was exposed . This tipsy Wesak sight seeing report has just come to light !
Though these two old crocks who were having fun and frolic at the expense of public funds went to Paris in 2014 purportedly to see Wesak celebrations held by UNESCO , that year the official celebration of Wesak by United Nations was as ordinary as our own Wesak celebrations in Sri Lanka this year . That Wesak celebration was held in Ninh Binh city, in Vietnam.
The entourage of Shiranthi and Daisy Achchi had chosen a most expensive and luxurious hotel , King George V Hotel in Paris during their stay from 20 th to 24 th May 2014 to enjoy to the hilt . Believe it or not , the SL foreign ministry has footed their bills in entirety amounting to Rs. 25 , 080,681.49 ( over Rs. 25 million !). The Air ticket fares amounting to Rs. 768,399.66 which were included in the total expenses were paid by the presidential secretariat of Mahinda Rajapakse the president at that time !
What is most disgusting and repulsive about this wasteful extravagance at state expense is , even the Queen Elizabeth the second who is still living does not stay in this King George V hotel which is in existence since the time of King George when she visits Paris , because the charges are so exorbitant . Yet our own senile super duper 'mean Queen' and her withered Daisy achchi had no qualms about staying in such a super luxurious hotel spending precious funds of the poor people of Sri Lanka. When Rome was burning only Nero was fiddling . In SL during the nefarious decade of Mahinda Rajapakse ,when home was 'burning' under economic burdens of the common man , he and his family were not only fiddling even diddling merrily .
What's more ! the senile duo Shiranthi Ammandi the so called orthodox Christian and withered Daisy who supposedly went on an official tour to see Wesak in Paris , had also consumed liquor in the Mini Bar of the hotel to further heighten their jollity like women roaming the streets - all at state expense ! The liquor bills of theirs were Euros 253 at one bar ; Euros 221 at another bar ; and Euros 371 at yet another bar .(on the last day ,the Wesak 'devotees' have got intoxicated more in the name of religion) . The SL rupee equivalent of a Euro in 2014 was Rs.176.00 meaning that the senile duo had spent about Rs. 150,000.00 of public funds towards liquor consumption alone for their tipsy Wesak sight seeing.

Hereunder are the mirth and merriment expenditure bills of the senile duo Shiranthi Ammandi and Daisy achchi …
Hotel stay and mini bar liquor expenditure without breakfast - Rs. 16,175,465.76 (Euros 88552.00)
Vehicle hiring charges – Rs. 7,593,061.56 (Euros 41650.00)
Air ticket fares - Rs. 768,399.66 (Euros 4200.00)
Other VIP expenses - Rs. 543,754.51 (Euros 2994.94)
Total expenditure - Rs. 25,080,681.00 ( Euros 137,396. 94 )

These are the culprits wasting public funds without let or hindrance most unconscionably on mere Wesak sight seeing, and their clan who wanted black flags to be hoisted this Wesak citing the bogus grounds that the country is going to be sold to Indian Prime Minister Modi .
Minister of foreign affairs Mangala Samaraweera yesterday tabled in parliament the details exposing the profligate life style expenditures of the Rajapakses who wasted precious public funds throughout their reign for their personal pleasures , and to gratify their maniacal whims . The details of the expenditure can be downloaded by clicking hereunder.
---------------------------
by (2017-05-07 20:27:26)